Products from Ryoka Malaysia.
Since the foundation of the company, Ryoka Malaysia has challenged new technologies and tough production methods in order to satisfy various requirements from the customers. The growth of Ryoka Malaysia is the history of the company built up together with the customers.
Parts for electronic devices/parts
for automobile/parts for OA devices
Design, molding and fabrication of products created from plastic
We accommodate production of large sized products to small sized products covering all types of plastic products including cabinet and mechanical parts for electronic devices, sanitary parts and internal and external parts for automobile. Customers' requirements are directly fed into the ISO certified production line, and high quality products are manufactured and offered from integrated production line covering all aspects of the manufacturing processes from design and fabrication of metal mold, molding, painting to assembly.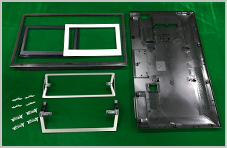 High gloss molding/Weldless molding
Gas assisted molding
Insert molding
White goods
(Two color molding) *Subcontractor
High gloss painting
Hot stamp
Printing (silk screen printing, pad printing)